About Carey and Rynette Olson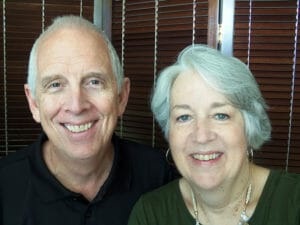 Carey and Rynette Olson founded Elijah's Tree in August, 2017 after serving in pastoral ministry over 35 years in both Converge and SBC churches in Bradenton, FL, Niceville, FL, Peoria, AZ, and Bloomington, MN. The combination of their gifts, experience, and understanding of the rigors and challenges of ministry suit Carey and Rynette very well for Elijah's Tree. Here's what they say about this ministry: "We are very much aware of the widespread need for biblical care and encouragement among vocational ministers in this country. At this stage of our lives, our clear calling and heart is to provide confidential, accessible, God-centered, Christ-magnifying, Scripture-saturated shepherding and encouragement for pastors, pastoral couples, missionaries and chaplains who are burned out, hurting and wounded." Carey and Rynette have been married for 45 years, and God has blessed them with two sons and one daughter. Seth and his wife, Jennifer, have three daughters, and they live in Niceville, Florida; Benjamin lives in Winter Haven, Florida; and Rachel and her husband, Joel, have one daughter and two sons, and they live in Whittier, CA.
Carey and Rynette's home is in Valparaiso, FL.
The Olsons are thankful to minister under the banner of The Biblical Counseling Institute, an outstanding ministry founded and led by Dr. Ab Abercrombie.